Cheshire-born Principal Osteopath, Adam Tilstone DO, and his colleagues are registered with the General Osteopathic Council and are members of the Institute of Osteopathy. All practitioners regularly attend post-graduate courses, and seminars as part of their continued professional development.
Adam Tilstone DO 
Principal Osteopath
After leaving Sandbach Grammar School, Adam trained at the University College of Osteopathy. He then returned to his home county of Cheshire and established two thriving clinics in Alsager and Nantwich. It was his ambition to run a multi-therapy practice and so WeaverHouse was established in 1996. Adam has completed the Osteopathy 'National Mentoring Scheme' and has mentored newly qualified osteopaths. Adam enjoys treating animals and his career has enabled him to travel extensively. Adam is a structural osteopath and has experience in treating numerous conditions and patients of all ages.
For over 30 years, Adam has been the Principal Practitioner, and, as such, has worked alongside various colleagues and associates that have brought many skills to the company. The conditions he treats include: acute and chronic spinal back pain, arthritis, nerve root pain (sciatica), repetitive strain injury, cervical whiplash and postural changes in pregnancy. Adam's reputation is well-established with the local GP surgeries and surgeons.
Adam's proudest moments include graduating from the University of Osteopathy with a Diploma in Osteopathy and, more recently, when the company was awarded the Institute of Osteopathy "Practice of the Year" award in 2019/20.
Adam likes nothing more than spending time in his garden with his dogs Toby and Mabel and caring for Henry the horse. His other interests include entertaining and cooking for friends.
Chris Heywood
BSc Ost (Hons) – Osteopath
Chris Heywood qualified at Leeds Beckett University in 2015. Chris is a keen sportsman and enjoys playing football and keeping fit. He has been an Associate Osteopath at WeaverHouse Osteopathy for just over 6 years, and is a popular member of the team.
Chris treats a wide range of conditions and also carries out dry needling acupuncture as part of his treatment plan if needed. He specialises in treating various sports injuries.
Chris lives in Bramhall, Greater Manchester.
Hannah Beard
BSc Ost (Hons) – Osteopath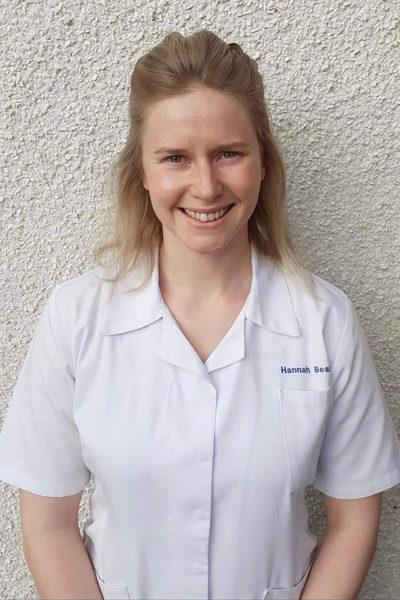 Hannah qualified from the College of Osteopaths in 2019 with first class honours. She was inspired to become an osteopath by her own local osteopath who worked both structurally and cranially. Since qualifying, Hannah has worked in both the private sector and the NHS.
Recent highlights include working as an osteopath at the Birmingham Commonwealth Games as part of the volunteering team. Hannah hopes to advance her cranial skills along side her structural ones and most enjoys the challenge of solving the problem of a pattern of injury. She is active in her spare time, walking her dog Ozzie and playing rugby union with Crewe and Nantwich Women's team.
Owen Davis
MSc Ost (Hons) – Osteopath
Owen has worked as an Osteopath since 2011. 
He graduated with a Masters degree from the British School of Osteopathy where he also taught students as a clinic tutor for several years.
Owen has previously worked at the London 2012 Olympic games and has experience working with many amateur and elite sports people including Olympic Gold medal winners and Premier league footballers.
He combines the use of traditional osteopathic techniques with modern manual interventions to provide effective treatment and rehabilitation for a wide range of painful conditions.
Andrew Antoniou 
Practice Manager
Andrew brings a wealth of experience in delivering outstanding customer service. Working within the hospitality sector from a very young age, he learnt very quickly that satisfied and well-taken-care-of customers are the best brand ambassadors.
'I am incredibly customer-oriented, and nothing but the very best will do. I strive to make every single client feel welcome and comfortable during their visit to us, and I am really excited to welcome past, present and future clients to our brand new bespoke premises located just a few minutes drive from Nantwich town centre."
Andrew is a keen horseman and competes most weekends, assisted by his super groom, Adam! Dogs Toby and Mabel also come along for the ride!
Nicola Van Wyk
Client Services Manager
Nicola joined WeaverHouse in 2014 as a receptionist. Nicola transferred to WeaverHouse Equine, which was another part of the company, dealing with Osteopathy for horses.
This was an extremely challenging role, scheduling over 300 horses a month for appointments in various parts of the UK and Channel Islands. WeaverHouse Equine was sold 3 years ago as part of the downsizing of the company.
Nicola returned to WeaverHouse Mainline as our Client Services Manager. Nicola has over 25 years of experience in customer-facing roles and works closely alongside the Practice Manager. Nicola is warm and friendly and will endeavour to make sure your visit to the practice runs smoothly.
Nicola lives in Nantwich, with her husband Stuart and their daughter Gracie.
Kelly Jones has recently joined the WeaverHouse Osteopathy Reception Team.
Kelly brings a wealth of customer service and management experience to the role, and has the most infectious laugh !
Kelly resides a 2 minute drive from the practice and lives with her husband and family just outside Nantwich
WeaverHouse
Marsh Lane
Edlestone
Nantwich, Cheshire
01270 629933
Monday:
Tuesday:
Wednesday:
Thursday:
Friday:
Saturday:
Sunday:
0800 – 2000
0800 – 2000
0800 – 2000
0800 – 2000
0800 – 2000
Closed
Closed